Contact Information
Aker Solutions
2103 Citywest Boulevard - Building 4, Suite 400
Houston, TX 77042
tel: (713) 685-5891
fax: (713) 270-2377
company website

Gallery
Profile PDF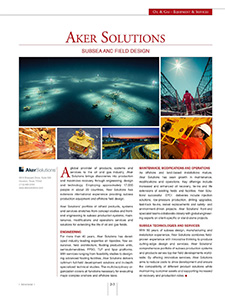 Aker Solutions
AKER SOLUTIONS
SUBSEA AND FIELD DESIGN



A global provider of products, systems and services to the oil and gas industry, Aker Solutions brings discoveries into production and maximizes recovery through engineering, design and technology. Employing approximately 17,000 people in about 20 countries, Aker Solutions has extensive international experience providing subsea production equipment and offshore field design. Aker Solutions' portfolio of oilfield products, systems and services stretches from concept studies and frontend engineering to subsea production systems, maintenance, modifications and operations services and solutions for extending the life of oil and gas fields.

ENGINEERING
For more than 40 years, Aker Solutions has developed industry-leading expertise on topsides, flow assurance, field architecture, floating production units, semisubmersibles, FPSO, TLP and Spar platforms. With services ranging from feasibility studies to designing advanced floating facilities, Aker Solutions delivers optimum full-field development solutions and in-depth specialized technical studies. The multidisciplinary organization covers all functions necessary for executing major complex onshore and offshore tasks.

MAINTENANCE, MODIFICATIONS AND OPERATIONS
As offshore and land-based installations mature, Aker Solutions has seen growth in maintenance, modifications and operations. Key offerings include increased and enhanced oil recovery, tie ins and life extensions of existing fields and facilities. Aker Solutions' successful EPCI deliveries include injection solutions, low-pressure production, drilling upgrades, fast-track tie-ins, swivel replacements and safety- and environment-driven projects. Aker Solutions' front-end specialist teams collaborate closely with global engineering experts on client-specific or stand-alone projects.

SUBSEA TECHNOLOGIES AND SERVICES
With 50 years of subsea design, manufacturing and installation experience, Aker Solutions combines field-proven experience with innovative thinking to produce cutting-edge design and services. Aker Solutions' comprehensive portfolio of subsea production systems and products serves top-tier field developments worldwide. By offering innovative services, Aker Solutions aims to reduce costs to drive development and ensure the compatibility of different product solutions while maintaining customer assets and supporting increased oil recovery and production rates.