Contact Information
URS Corporation
10550 Richmond Avenue, Suite 155
Houston, TX 77042
tel: (713) 914-6699
fax: (713) 789-8404
company website
Gallery
Profile PDF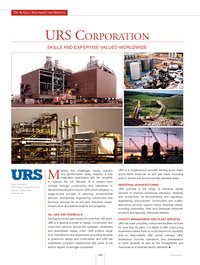 URS Corporation
Meeting the challenges facing industry and governments today requires a fully integrated organization with the versatility to support the full lifecycle of a project—from concept through construction and operations to decommissioning and closure. URS is that company—a single-source provider of planning, environmental services, architecture, engineering, construction and technical services for oil and gas, industrial, power, infrastructure and federal projects and programs.
Oil, Gas and Chemicals
Serving the oil and gas industry for more than 100 years, URS is a leading provider of design, construction and production services across the upstream, midstream and downstream supply chain. URS projects range from maintenance and expansions of existing facilities to grassroots design and construction, and URS has established long-term relationships with some of the world's largest oil and gas companies.
URS is a single-source provider serving every major active North American oil and gas basin, including work in remote and environmentally sensitive areas.
Industrial Manufacturing
URS provides a full range of industrial facility services to improve operational efficiency, reliability and productivity. Its environmental and regulatory, engineering, procurement, construction and quality-assurance services support heavy industrial clients, including automotive, food and beverage consumer products and specialty chemicals markets.
Facility Management and Plant Services
URS has been providing outsourced facilities services for more than 55 years. The depth of URS's outsourcing experience means there is no job beyond its capability and no responsibility URS cannot manage. URS's experience includes operations and maintenance of entire facilities as well as the management and maintenance of selected facility elements.