Contact Information
Spine Associates of Houston LLC
5420 West Loop South, Suite 2500
Bellaire, TX 77401
tel: (713) 383-7100
fax: (713) 383-7500
company website
Gallery
Profile PDF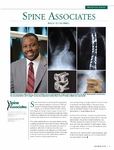 Spine Associates of Houston LLC
Back to Normal.
Spine Associates is a premier practice specializing in the care and treatment of the spine. CEO and founder Dr. Richard Francis specializes in spine surgery, with a special interest in motion sparing technologies and revision spinal surgery. He was one of the first surgeons in the United States to offer the lumbar artificial disc replacement and now also offers his patients a cervical disc replacement as an alternative to a fusion.
The lumbar artificial disc is a three-piece device that has a sliding core between two metal end plates. Offering this innovative technology, Spine Associates can provide its patients an alternative to relieving lower back pain caused by degenerative disc disease and related conditions without compromising flexibility. Another advantage is the improved recovery time, which allows patients to return to work in a shorter period of time.
Continuously honing his surgical skills, Dr. Francis trained in Scotland at the Royal College of Surgeons and at Baylor College of Medicine. He then served for several years as Assistant Professor of Orthopaedic Surgery at the University of Texas Medical School.
Dr. Francis has performed numerous successful lumbar disc replacement surgeries, providing relief for many satisfied patients. One patient, Catherine Martinez, said, "The disc replacement surgery has freed me from constant pain, and I feel renewed." Another patient, Teresa K. Long, said, "Without Dr. Francis, the quality of my life would not be what it is today."
These and other patients reaffirm Spine Associates' goal to deliver the highest quality service in a timely, efficient and professional manner.